March 2023 | 2538 words | 10-minute read
On a cool morning in February 1911, as the foundation stone at Walwhan dam was laid, Sir Dorabji Tata honoured the memory of his father and Tata group Founder, Jamsetji Tata. After all, it was Jamsetji's vision, conceived as early as 1875, that had made the building of a hydraulic plant in the Western Ghats a reality.
Like all of Jamsetji's big, pioneering dreams, the hydroelectric project too, had one primary driver — the goal of nation-building. As Sir Dorabji Tata said on the occasion in 1911: "To my father, the acquisition of wealth was only a secondary object in life; it was always subordinate to the constant desire in his heart to improve the industrial and intellectual condition of the people of this country."
A hydro renaissance
A proud citizen of Bombay (now Mumbai), Jamsetji sought solutions to bring relief to his city from the choking refuse generated by its coal-powered industries and mills. His enterprising mind settled on a sustainable source of energy — hydroelectricity. Though his dream would not come to fruition in his lifetime, the Tata group, under the leadership of his son Sir Dorabji, established western India's first hydroelectric plant at Khopoli, which harnessed water resources from Walwhan dam. The plant was financed entirely by Indian investors.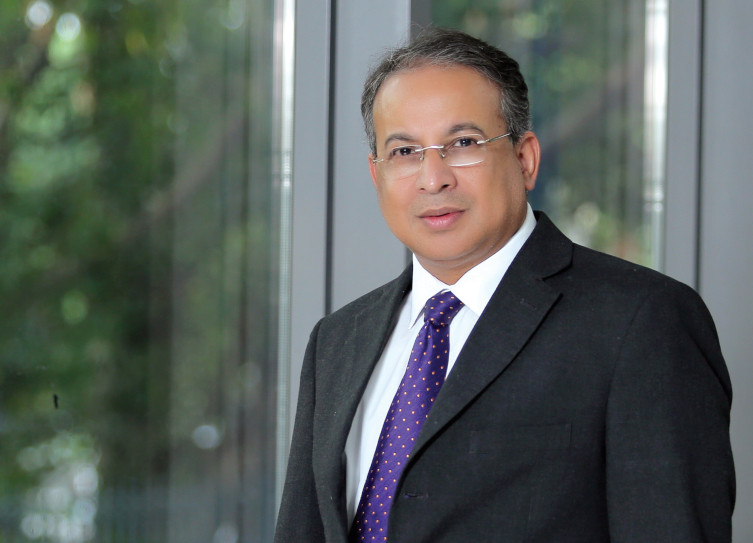 "The energy demand of the country is growing at a fast pace and renewables will play a major role in meeting this demand. The country has taken multiple initiatives and is accelerating the adoption of clean energy technologies to trigger a new wave of sustainable growth. Technology will play a key role in driving the entire energy transformation. My vision for India in 2047 is of a secure, efficient and clean energy nation, connected with the rest of the world through an interconnected grid in the spirit of 'Vasudhaiva Kutumbakam' — the world is one family."
—Dr Praveer Sinha, CEO and MD, Tata Power
When the plant was commissioned a mere five years later in 1915, Sir Dorabji said: "To my father, the hydroelectric project was not merely a dividend-earning scheme; it was a means to an end — the development of the manufacturing power of Bombay. … The great sums of money needed were forthcoming mainly because those who commanded them believed that the scheme would assuredly play an important part in the industrial renaissance of India, which is of paramount importance to the whole future of the country." The 40MW plant (120MW today) was followed by two more hydroelectric projects — the 40MW station at Bhivpuri in 1922, and the 90MW station at Bhira in 1927 (capacities later augmented to 75MW and 300MW, respectively).
In 2022, Tata Power celebrated 100 years of the Bhivpuri plant, an event that coincided with India's 75th year of independence, further highlighting the critical role that the company has played to 'Power India' and 'Empower Bharat' for over a century. Dr Praveer Sinha, CEO and MD, Tata Power, reiterated the organisation's commitment to sustainability, saying, "This occasion reaffirms our commitment to achieving clean and green energy capacity of 80 percent by 2030, thus contributing towards India's clean energy targets."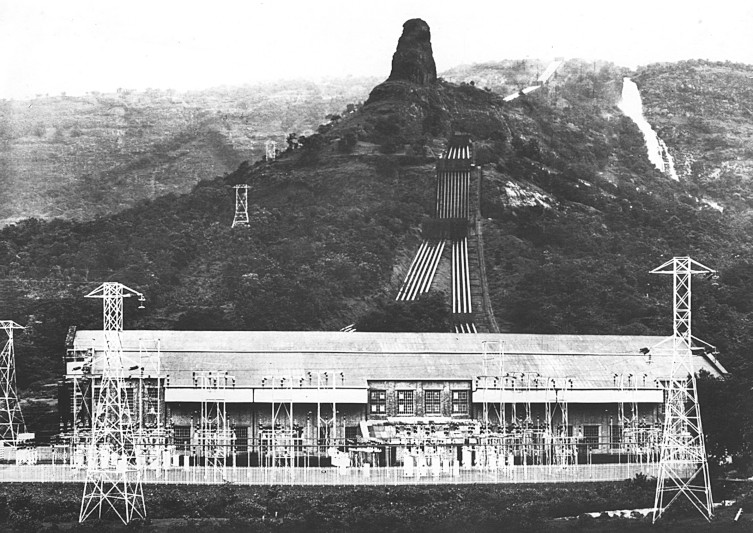 The Bhivpuri plant, which transmits power over 110kWh transmission lines to industries and licensees in the Mumbai metropolis, forms an 'islanding system' along with the Khopoli and Bhira stations. The system acts as a backup power source for India's commercial capital and has helped curb pollution in what is one of the world's busiest and most densely populated cities.
Moreover, the water released from these three plants meets the Ulhas, Patalganga and Kundalika rivers in the Konkan region, and has enabled rapid industrialisation, urbanisation, irrigation development and commercial trade in neighbouring areas. 
The renewable push
India has set herself ambitious targets in the reduction of carbon emissions, committing to 50 percent capacity from renewables by the end of the decade. As an organisation that has pioneered sustainable business practices in India, Tata Power has risen to the challenge. Dr Sinha says, "We are committed to becoming carbon neutral by 2040. No new greenfield or brownfield coal-based plant will be added to our capacity, and once our coal-based plants are decommissioned, we will become 100 percent renewable."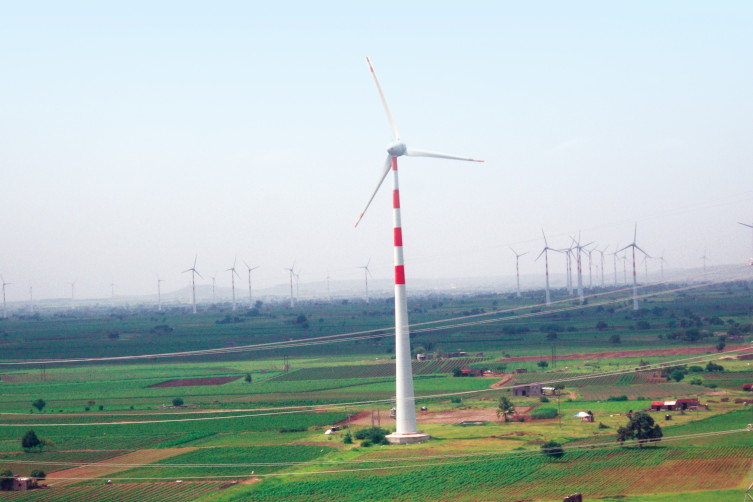 The company is building its renewable capacity by focusing on engineering, procurement and construction projects, solar rooftop and solar pumps. It has already built up an impressive track record with its projects, including the 300MW solar plant in Dholera, Gujarat; the 100MW NTPC Anantapur plant (one of India's largest using DCR modules, which means all solar cells used in the plant are manufactured in India); and racking up the highest market share in the solar rooftop business, with installations like the Brabourne Stadium rooftop, the 120kWh vertical solar installed at Dell's Bengaluru office and Kochi airport's solar carport. Many of these were firsts or the largest at the time they were built.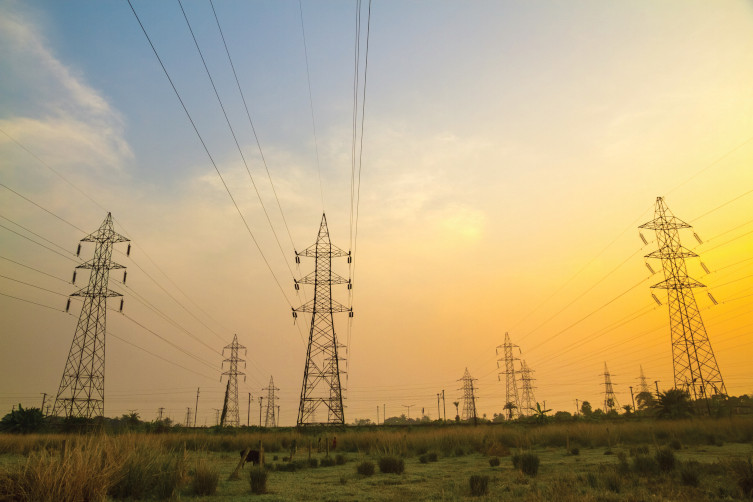 Innovation for a nation
Tata Power has an installed generation capacity of about 14GW across thermal, hydro, solar, and wind sectors; it uses state-of-the-art technology to ensure its efficacious management.
To improve asset reliability and usher in a new paradigm of maintenance, Tata Power launched the Reliability Centred Maintenance (RCM) initiative in October 2016. The goal was to make O&M digital — data and analytics driven. Existing systems were integrated to capture all plant maintenance and operational data, with a focus on minimising failure rates, optimising maintenance cost, increasing asset life and uptime.
The company's Autonomous Power Plant (APP) initiative uses artificial intelligence and machine learning to determine heat rate and provide real-time advisory to the operator to run the plant in the most optimal manner (a reduction of 1kcal/kWh of heat rate in a thermal power plant can result in annualised savings of around ~Rs 30 lakh).
In 2019, Tata Power set up the Central Control Room for Renewable Assets that allows for asset monitoring and data analysis to forecast how much power can be generated the following day by accounting for weather and asset conditions.
Electrifying rural India
Energy poverty has been an enduring problem in the country for decades, most severely impacting rural areas. Villages in India have had to rely on alternative sources of electrification (like diesel generator sets), with grid power being scattered and intermittent. This means that while public services like schools and panchayats (local self-government bodies) may have access to power from the grid for approximately eight hours a day (or sometimes no power for three days), many businesses have to contend with erratic power supply from other sources — an inconducive scenario for rural entrepreneurship. This disparity has led to a consistent labour exodus to cities, slowing economic development in rural areas and a disproportionate burden on urban areas.
Tata Power Renewable Microgrid Ltd (TPRMG), a wholly owned subsidiary of Tata Power and Small Industries Development Bank of India (SIDBI), is providing succour to far-flung rural areas that are operationally unattractive for most DISCOMs (distribution companies) that have to bring power lines over long distances to supply to remote villages. 
"Our purpose has always been to empower rural people and businesses by creating a development model wherein they can carry out economic activities and thereby improve their quality of life," says Dr Sinha. "The solution has to be power that is low-cost enough to be viable for a household to afford, while also being able to compete with DISCOMs that receive government subsidies." Good economics also dictates there be a certain minimum consumption in rural areas, which cannot be fulfilled only by households that use less electricity. Thus, there is a pressing need to encourage industrial and commercial users.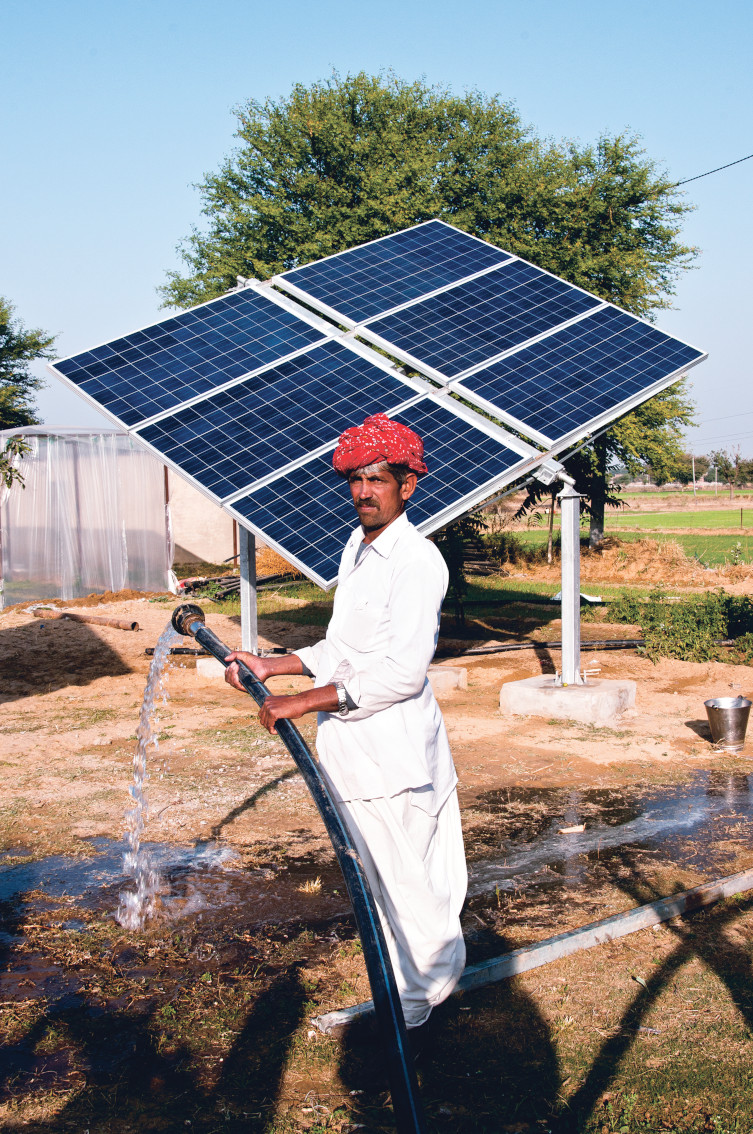 Microgrids have proven to be cost-effective for rural electrification in developing markets like India, replacing costly options like diesel while being a far cleaner, more affordable source of energy than centralised grids — the installation of which can be prohibitively expensive and drawn out.
This has opened up a slew of opportunities for rural entrepreneurs and has the potential to transform lives: consider milk co-operatives that can now have access to electric chiller plants for storing collected milk to be transported to cities or milk processing centres nearby; farmers equipped with an electrified pump set being able to distribute water to other farmers in a five km radius; a reverse osmosis plant run on electricity supplying water to nearby villages, at a nominal cost of Rs 1 per litre; e-rickshaws charged with cheap electricity bringing cleaner transport options to rural areas, while earning a livelihood for rickshaw owners; digital classrooms in every village, powered by affordable electricity; and farmers using drones and other technology to improve productivity.
TPRMG anticipates setting up 10,000 microgrids in the future.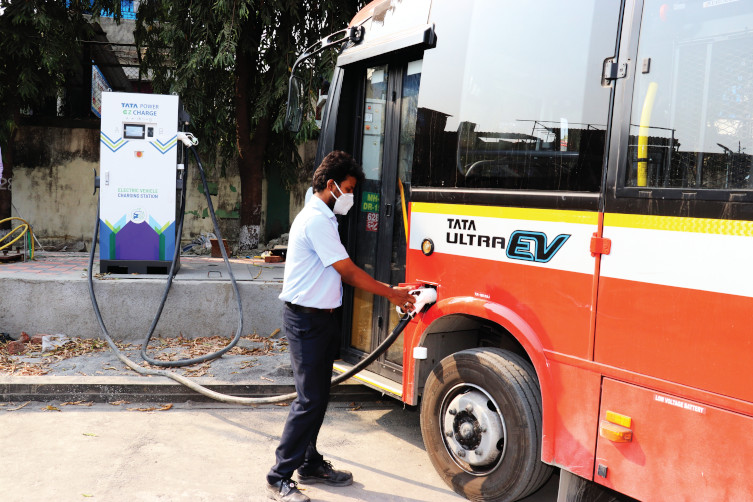 The future of mobility
As electric vehicles (EVs) evolved to become the future of mobility, Tata Power was quick to adapt and venture into the EV charging business. From setting up its first charging station in Mumbai in 2017, the business has come a long way, and includes:
A strong network of 23,500 home chargers (for private use)

240+ electric bus charging points across 3 cities

3,000+ public and semi-public EV chargers across  4,300 cities and towns in India
Tata Power works extensively with car manufacturers to understand their growth plans and prioritise the deployment of chargers accordingly, ensuring they have deployed chargers even before vehicles arrive. A pioneer in EV infrastructure, the company is thus enabling India's seamless transition to electric mobility by offering widespread charging infrastructure with world-class customer experience.
On the pandemic frontlines
As India reeled from the impact of the Covid-19 pandemic in its early days in 2020, Tata Power was quick to adapt operations to ensure there was no gap in meeting the country's needs. The company's strong workforce was on the frontlines along with other essential services workers, powering hospitals, laboratories, essential businesses, as well as the gradual shift to work-from-home models even as economic activity plummeted.
The company's 70 renewable power plants, 11 thermal and hydro-generation plants, along with transmission and distribution networks operating in five cities, were running at full capacity to serve millions of customers across the country. Dr Sinha says, "The utility's dedicated workforce of about 22,000 people, continued to operate diligently at different plant locations to provide seamless power supply to all vital institutions and millions of Indians who were confined to their homes."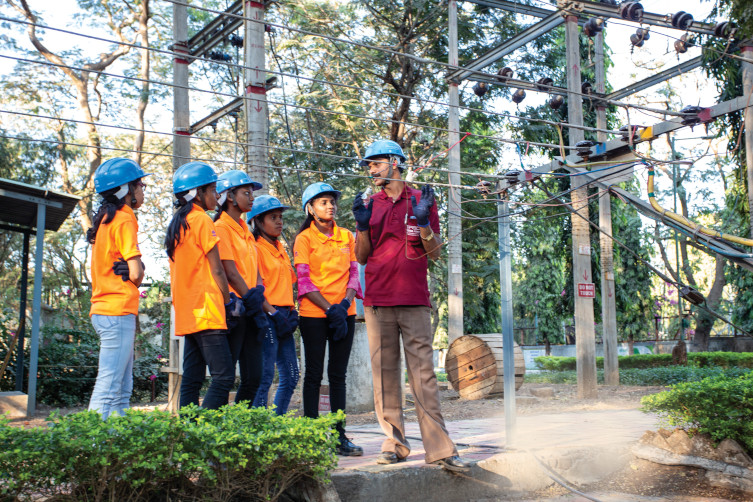 Empowering communities
Keeping with the Tata tradition of empowering the communities in which it operates, Tata Power has supported economic and community development projects around its plants since its inception. The company has been actively involved in areas like livelihood generation, education and training, and biodiversity and wildlife conservation.
A key thrust in Tata Power's community development outreach is skill development to address the skill gap challenge in India. As one of the youngest nations in the world, with over 62 percent of the population in the working-age group and about 54 percent of the population under 25 years of age, there is an urgent need to provide stimulus to the skill development sector.
Tata Power Skill Development Institute (TPSDI) understands that employable youth with potential employment opportunities have the power to build a strong economy, and that in a rapidly changing industrial ecosystem, the need of the hour is to provide access to regionally appropriate skilling initiatives with a special focus on under-served regions.
TPSDI's technical courses build the understanding and skills of students through hands-on practicals and simulator lab sessions. With this certification, students can seek employment or internships with credible organisations; the courses also empower trainees to become entrepreneurs and create employment opportunities for others. To date, TPSDI has trained more than 1.3 lakh people in industrial safety, power sector-related skills and employability skills, across its six, state-of-the-art skill hubs in Maharashtra, Gujarat and Jharkhand, and smaller skill spokes in Odisha, Kerala and Uttar Pradesh.
As the power sector in India evolves to become more green-centric, TPSDI has expanded its course offerings to include solar — covering design and installation, operations, and maintenance of different kinds of solar installations like rooftop, on-ground, floating and microgrids — and is on track to train 5,000 youth in green jobs by 2025. To keep pace with the changing needs of the industry, programmes for training in home automation, EV charging and smart metering are also on the cards.
The company is particularly focused on developing skills for women. While TPSDI accords special preference (including lower fees) to women, Roshini, the integrated vocational training centre of Tata Power, implements a unique model to further women's livelihoods by combining customer connect, safety and shared value generation by involving and upskilling women's self-help groups. Under this flagship community empowerment initiative, semi-skilled and unskilled women are provided mentoring and training in technical domains like electricity metering, billing and collections, along with awareness of energy conservation, financial literacy, life skills and leadership training.
The skilling model has engaged more than 8,000 women across Delhi (Abha), Jharkhand, Mumbai (Abha Sakhi) and Odisha (Abha Sakti), thus serving a large customer base in slum and rural areas.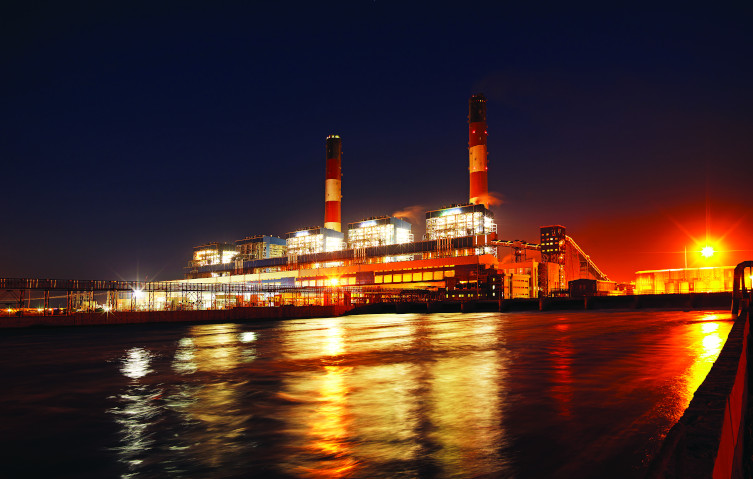 Promises going ahead
Tata Power aspires to become the 'utility of the future' by:
Growing its 5GW renewable portfolio to 20GW by 2027

Establishing market leadership in rooftop and solar pumps to grow to Rs 15,000+ crore combined revenue by 2027 

Becoming market leaders in EV charging, with 1.25 lakh+ home chargers per annum and 25,000+ other charging points by 2027 

Expanding distribution footprint to 40 million customers by 2027; pursuing smart meter opportunities, distribution services and growing business through TBCB and M&A in transmission 

Leading the industry in transition to carbon neutrality by 2045, 100 percent water neutral and 100 percent zero waste to landfill-biodegradable waste by 2027 
India@100
Tata Power celebrated 75 years of independence along with the rest of the country, by championing widespread EV usage through discounts to EV owners. "Tata Power strongly believes that sustainable is attainable," says Dr Sinha. "The company aspires to help businesses and consumers make small, yet significant changes for attaining a sustainable lifestyle. In addition to driving the country's growth, our foremost responsibility is also to lead the way in which we can reverse climate change."
In fact, sustainability and energy security are the company's biggest dreams for India as she looks ahead to completing her century in 2047. "Energy security will be a giant step for India in becoming a global superpower," says Dr Sinha, adding, "The energy demand of the country is growing at a fast pace and renewables will play a major role in meeting this demand. The country has taken multiple initiatives and is accelerating the adoption of clean energy technologies to trigger a new wave of sustainable growth. Technology will play a key role in driving the entire energy transformation. My vision for India in 2047 is of a secure, efficient and clean energy nation, connected with the rest of the world through an interconnected grid in the spirit of 'Vasudhaiva Kutumbakam' — the world is one family."
—Anuradha Anupkumar