March 2023 | 2220 words | 8-minute read
In 1932, Sir Dorabji Tata gave the nod to finance and launch India's first-ever airline — Tata Airlines — which later became the national carrier Air India Ltd. In 1938, the Tata group acquired the Singhbhum Shops of the East Indian Railway Workshop to manufacture steam locomotives and later diesel locomotives under the name of Tata Engineering and Locomotive Company Ltd (TELCO, renamed Tata Motors in 2003), thus making a significant contribution to India's transportation services and its journey to becoming self-reliant.
This journey, however, took a different turn in 1954 when TELCO entered into an agreement with Daimler Benz to roll out what would be termed as India's first ever 'truck made for the Indian soil' — the Tata Mercedes Benz truck. This historic partnership between the two iconic brands sowed the seeds of automotive manufacturing in India. In 1961, just a few years after the launch, both the country and the company celebrated two milestones: the launch of its first luxury bus and the first-ever export of made-in-India trucks to Sri Lanka (then Ceylon).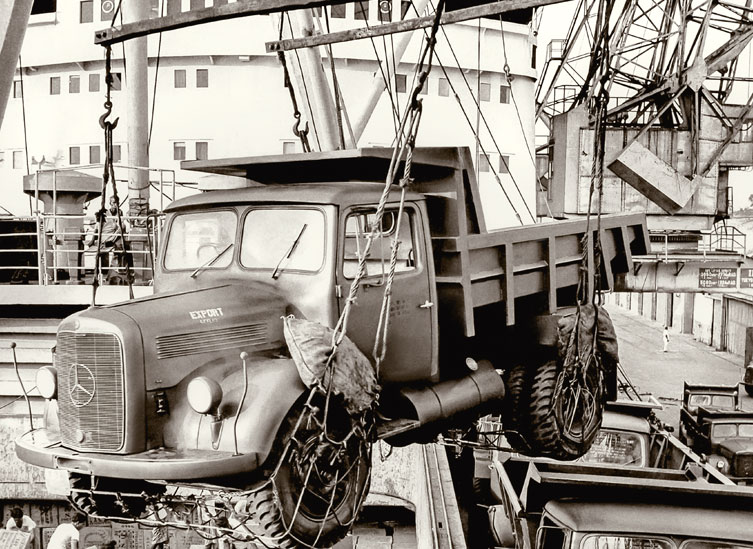 By 1968, over 175,000 Tata-Daimler Benz vehicles, approximately 50% of trucks and buses, plying on Indian roads were from Tata Motors' stable, marking its journey towards becoming the largest manufacturer of commercial vehicles (CV) in India. [view a timeline of Tata Motors]
R&D to Innovation
In line with India's aspiration to be self-reliant in industries, Tata Motors laid the foundation for developing automotive excellence by launching its first R&D centre in Jamshedpur in 1966. In the late 1970s, two new vehicles: the 15-tonne heavy vehicle Tata S 1210 series — with an improved front design, embedded rectangular headlights and a wider hood — and the light truck 407 LCV were indigenously designed and rolled out, revolutionising the transportation of goods across the country.  Since then, a solution-oriented approach to holistically address the evolving needs of customers ahead of the curve made Tata Motors introduce first-to-market concepts that have led to a transformational shift in mobility. The Tata Ace is one such example of creating a new category altogether for last-mile deliveries that is now being extensively used by the e-commerce industry. Similarly, the timely introduction of large tippers, and CNG-powered trucks in the light, medium and now heavy segments of commercial vehicles have ensured Tata Motors' continuing leadership in CVs.
"In recent years Tata Motors has made a significant impact on the automotive industry by virtue of power of innovation and a delivery mindset." - Rajendra Petkar
Innovations introduced by Tata Motors have consistently set industry benchmarks in every segment of cargo and passenger transport. These efforts have resulted in creating new age vehicles that offer stunning designs, pleasant driving experiences, seamless connectivity and serve a wide variety of applications. Tata Motors has further sought to elevate customer experiences through Industry 4.0 practices and sophisticated platforms.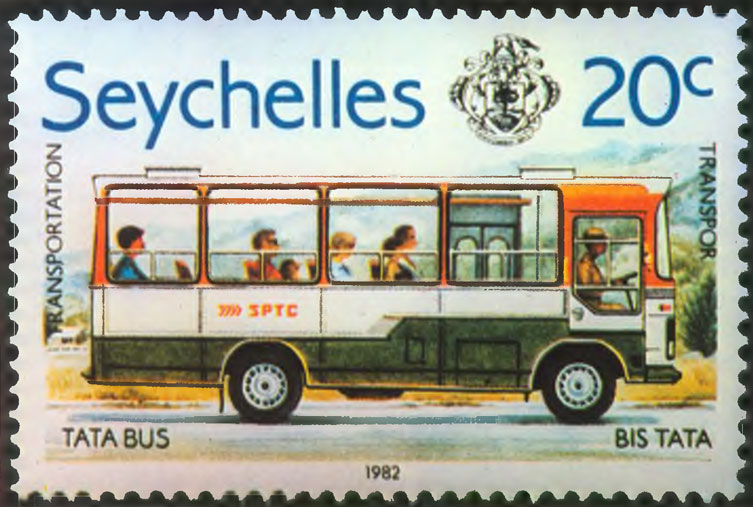 According to Rajendra Petkar, President and Chief Technology Officer, Tata Motors, "In recent years Tata Motors has made a significant impact on the automotive industry through innovation and a delivery mindset. Its accomplishments include complete product transformation while offering superior product attributes and value enhancers during the BS4 to BS6 transition in a three-year record, democratisation of occupants' safety with the launch of the country's first 5 star Global New Car Assessment Programme (NCAP), a rating to test safety capabilities of new cars, rated cars across segments, and indigenously developed connected vehicle features across vehicle segments. We are also leading the cause of sustainability by launching vehicles with alternative and new energy models like CNG, LNG, ethanol, electric vehicles (EVs) and the country's first zero-emission–fuel-cell bus powered by hydrogen. Besides, the InnoVista and Imagineering competitions inspire our workforce to showcase their agility, skills and innovative mindset towards solving problems and enhancing efficiencies to delight customers."
Being indigenous
1988 was a watershed year for Tata Motors. Earlier that year, Ratan Tata, the then Chairman of Tata Sons, and currently Chairman Emeritus, Tata Sons, had been appointed Executive Deputy Chairman of TELCO; under his aegis, India's first indigenous pickup, Tatamobile 206, was launched, marking the company's entry into the light commercial vehicle segment.
When the country opened its doors to foreign investment in 1991, it ushered in a new era for both India and Tata Motors. The company launched a range of vehicles, beginning with Tata Sierra, India's first home-grown sports utility vehicle (SUV), designed and manufactured locally; followed by the Tata Estate in 1992; and in 1994 Tata Sumo, the first multi-utility vehicle named after Tata Motors' then Managing Director (MD), Sumant Moolgaokar.   
Making India's car
The company's dream of launching a full-fledged indigenous passenger vehicle (PV), however, was yet to be fulfilled. The post-liberalisation boom provided the needed impetus and in December 1998, Tata Motors launched the Indica, 'India's Car', capturing the nation's imagination. Indica catapulted India into an elite group of just 10 nations that have manufactured their own cars. 
"First unveiled in 1998, Tata Indica was a game changer for the Indian automobile industry because it not only was India's first indigenously developed car but it also represented something larger — a significant step forward in India's journey towards building home-grown competencies for building vehicles of the future. Indica's innovativeness, design and localisation outlined Tata Motors' broad vision as it forayed into the passenger vehicle segment. Conceived to meet the needs of the Indian customer, Indica quickly grabbed the numero uno spot in the market and set the stage for Tata Motors to seriously develop its passenger vehicle portfolio," says Mr. Shailesh Chandra, Managing Director, Tata Motors Passenger Vehicles  and Tata Passenger Electric Mobility, both subsidiaries of Tata Motors.
"Tata Indica was a game changer for the Indian automobile industry because it not only was India's first indigenously developed car but it also represented something larger — a significant step forward in India's journey towards building home-grown competencies."—Sailesh Chandra
It wasn't long before the Indica firmly established itself as the people's favourite and in 2001, it became the fastest-selling automobile in Indian history when it notched up sales of 100,000 in less than 18 months. The Indica was followed in quick succession by the launch of the Indica V2 in 2001 and Tata Indigo ('India on the Go') in 2002.
The Tata Safari, the first made-in-India four-wheel drive, was also launched that year. The Safari Storme GS 800, a version exclusively developed for the Indian Army, proudly continues to serve the nation's challenging requirements at the frontlines.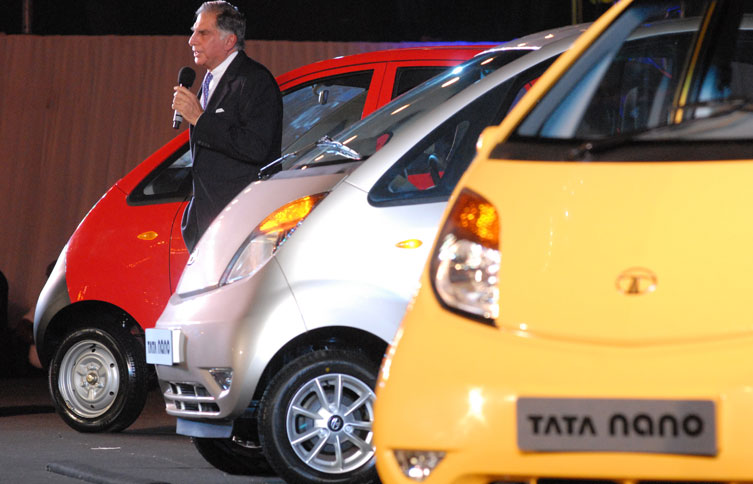 In the ensuing years, Tata Motors enhanced its portfolio of offerings across the CV and PV spectrum, coming out with competitive and immensely popular models such as Tata Ace; Tata Indigo, India's first indigenously produced sedan; and Tata Nano, the world's most affordable car. Undoubtedly, Nano was the star of the Tata stable in 2008, at a price tag of around Rs 1 lakh. The frugal engineering ingenuity behind the Nano was widely acclaimed; it also expanded the Indian car market, leading to the advent of affordable cars.
The acquisition of Jaguar Land Rover helped further diversify offerings while putting Tata Motors on the global map.
New Forever
In 2017, the company launched the Nexon, Tigor and Hexa — each representing revolutionary designs and performance that pushed the boundaries of automotive engineering. In January 2020, Tata Motors took a big leap in its engineering practice and completed its BS6 transition with the launch of its New Forever range of cars and SUVs. The new generation of Tata Motors' PVs came with BS6-compliant engines, and superior design under the Impact 2.0 design language. Redesigned to suit its times, this range promises better performance, refreshed and robust exteriors, enhanced safety and utmost driving comfort to its customers. Nexon is India's first car to receive a 5-star Global NCAP rating and later the premium hatchback Altroz followed this feat. The Nexon EV, the most popular EV in the country, has become the standard of a smartly priced, zero-emission and technologically elevated connected vehicle.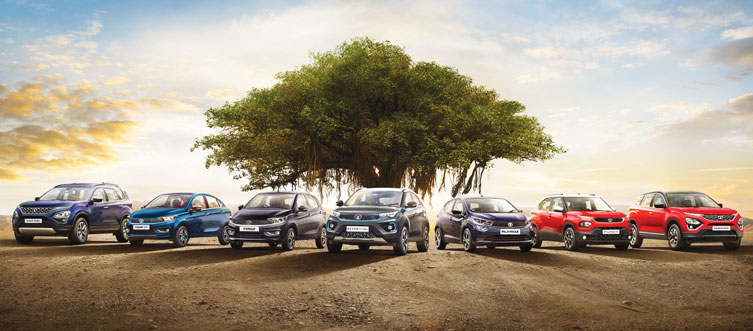 The 2020 New Forever range of PVs and the latest portfolio of CVs set the benchmark for redefining transportation, with EVs making a prominent appearance.
Tata Motors has been making a concerted effort to digitise every step of its value chain to be future-ready.
Leading the EV wave in India
EVs are imperative for the world, and more for India, to combat the ill-effects of climate change.
The Government of India has played a pivotal role in promoting the faster adoption of EVs by creating a favourable policy environment. The inherent advantages, such as superior performance, a quiet and peaceful driving experience, hassle-free refuelling, ie charging at home, as well as significantly better operating costs, ensure EVs are at the top of buyers' lists.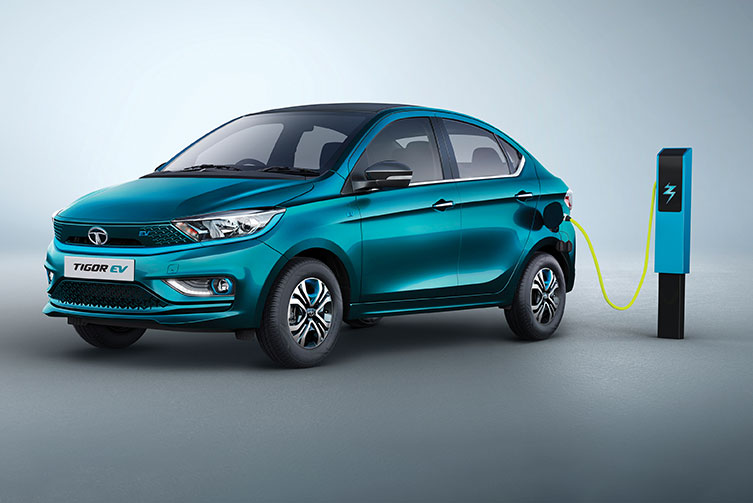 Tata Motors is leading the EV mobility in India, nurturing its growth with 88% market share from the Nexon EV and Tigor EV. The face of urban mass mobility is also fast changing with more than 715 electric buses from Tata Motors already running successfully on Indian roads in various cities, with orders for supplying several thousand more over the next few years. The recent electrification of the legendary Tata Ace is another step forward to redefine last-mile transportation with eco-friendly solutions, a key requirement of the rapidly growing e-commerce and logistics sectors. 
Leveraging group synergies, Tata Motors has also established Tata UniEVerse, a one-of-its-kind EV ecosystem, which is further propelling EV adoption.
In 2022, the company unveiled its three-phased approach towards building a comprehensive EV portfolio for personal mobility. Tata Motors will now expand its EV portfolio further with a new mainstream intervention, the Tiago EV. As the leader, it is now pioneering the next phase of EV market expansion to bring all the EV benefits, such as exciting yet easy drive, silent cabin and low cost of ownership to a more accessible level.
Redefining future transportation
The company is redefining the future of Indian transportation by investing in R&D for safe, sustainable, smart and connected mobility solutions that are best-in-class in terms of comfort and convenience, better connectivity and lowest total cost of ownership across its product line-up, which now includes developing EVs and their components such as battery and e-axle, as well as thermal management technologies. It is working towards advanced vehicle safety by utilising digital technology, design and ergonomics. The latest product features related to vehicle and occupant safety are being incorporated with upcoming safety regulations in consideration. 
With its nationalistic 'desh ke trucks' focus, Tata Motors is consistently enhancing the overall value proposition of its offerings with improvements in existing technologies and by introducing future ready powertrains. Besides improving the efficiency, emission profile and contemporariness of internal combustion engines, it is developing technologies for use of alternative fuels such as ethanol, methanol, CNG, LNG, and hydrogen; the company is also adopting advanced substrates for precious metal reduction in exhaust after-treatment systems to help enhance fuel efficiency and reduce its carbon footprint.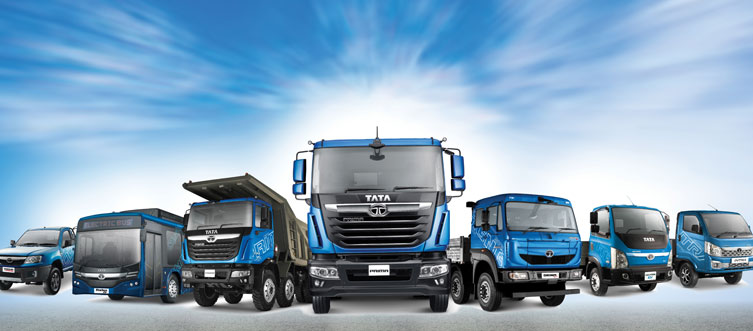 Tata Motors has been developing battery, electric and hydrogen fuel-cell technologies for application in CVs, pioneering India's transition to an electric future. It offers the widest portfolio of CNG-powered trucks and buses, and has recently launched the country's first CNG-based medium and heavy truck. To make Indian roads safer, Tata Motors has introduced another first, a new age advanced driver assistance system (ADAS) in its flagship truck brand Prima. 
"Our trucks connect India and power the engine of the nation's economy. As the industry leader, we are creating new paradigms of functionality, productivity, connectivity, safety, and performance by continually introducing future-ready products, services, and solutions." - Girish Wagh
Says Girish Wagh, Executive Director, Tata Motors: "Our trucks connect India and power the engine of the nation's economy. As the industry leader, we are creating new paradigms of functionality, productivity, connectivity, safety, and performance by continually introducing future-ready products, services, and solutions. They address the growing need for safer transportation and cleaner mobility solutions, while embracing alternative energy sources. Our smart trucks are designed to deliver best-in-class operating economics and superior comfort with enhanced connectivity. The engines of infrastructure development, consumer consumption and e-commerce powering the Indian economy require continued transportation support to run seamlessly, and we at Tata Motors will continue to deliver superior value proposition to customers by introducing smarter, future-ready products and services." 
Tata Motors strives to elevate each of its products by keeping a close check on the pulse of Indian customers. With the recent drive towards digital connectivity, and sustainable and clean mobility solutions, each of its cars is engineered to lead the e-mobility trend.
From its humble beginnings, Tata Motors has scaled unimagined heights. Today, 10 million Tata branded vehicles ply on roads across 125+ countries. Its inspiring journey has had its fair share of ups and downs, has in many ways mirrored India's own journey towards becoming more self-reliant. Ultimately, the company's phenomenal success has been a result of its dedication towards fostering innovation within the country, driven by the vision of creating world-class products that are, at their core, made in India.  
- Sanghamitra Bhowmik